Shake it till the tin frosts!™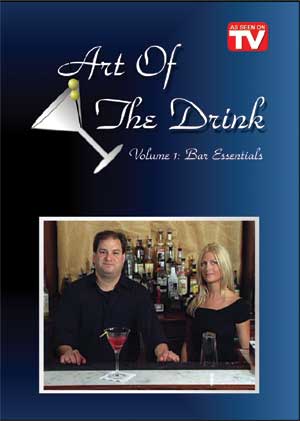 Amazon's #1 Selling Bartending DVD!
Purchase – Only $19.95!
eRef™ for your mobile device just $4.99!
Watch The Commercial

"Have you ever felt like sometime, somewhere, somebody gave a class about
what goes on behind a bar – but you weren't invited? Well, here is that class!"

---
You're the center of attention – all eyes are on you. Confidently selecting a couple of bottles, you pour just the right amount of each into your mixing tin, shake the cocktail with the assurance of a pro, and serve the perfect crystal-clear, ice-cold Martini with flair and style as your bewitched guests hang on your every move! This is the thrill of bartending, whether you're in a restaurant or right in your own home bar. Glistening amber Manhattans, redolent with butterscotch and cherry, created before the astonished eyes of your friends. A frothy, refreshing Bay Breeze bursting with cranberry and pineapple made to order in seconds. And the sweet mint-and-lime dream that is a Mojito transforming an afternoon on the deck into an instant getaway to a Caribbean island. All made perfectly every time, anytime!
Get an in-depth tour of the bar!
Learn "Bar-Speak" terms like up, neat, perfect, and dirty!
Examine the best-selling liquors including vodka, gin, rum, tequila, and scotch!
Take a comprehensive course on martinis!
Get complete shopping lists for setting up a home bar!
Master the tips and techniques you need to make drinks the way the pros do!
Save money – be a smarter bar customer!
Over 1 hour 45 minutes long!
Includes a free reference booklet with over 50 recipes!
Sample Clip